When people told me it would be cold on the South Island of New Zealand, I didn't believe them. Know-it-all me went around like "I'm from Canada, I know cold." And I do believe that I have a pretty high threshold for "cold" (but that's relative to the entire human race, of which the majority live in extremely warm places).  So when it came time to pack for winter in New Zealand, I didn't give it much thought.
But how cold are New Zealand's winters really?
The base of Mount Cook can get as low of – 13 C in the winter, and it only gets colder as you gain elevation. On the other hand, Milford Sound is typically 1-2 C in the winter, however there is also 400 mm of rain each month. Dunedin will have an average low around 4 C in the winter, whereas Christchurch will be closer to 1 C.
Compounding the chilly outdoor temperatures is that the indoor temperatures aren't much better. New Zealand houses, for the most part, are not insulated and don't have central heating. Plus, it'll cost you an arm and a leg (and maybe even your first born child) to heat your house with a space heater or detached radiator.  So basically, regardless of whether you're inside or outside, South Island is cold.
But fear not! In this post I'll outline what to pack and why, plus some tips for buying gear and background on layering. However, if you'd like to skip all that and just want an easy to read packing list, you'll find one at the bottom of the page.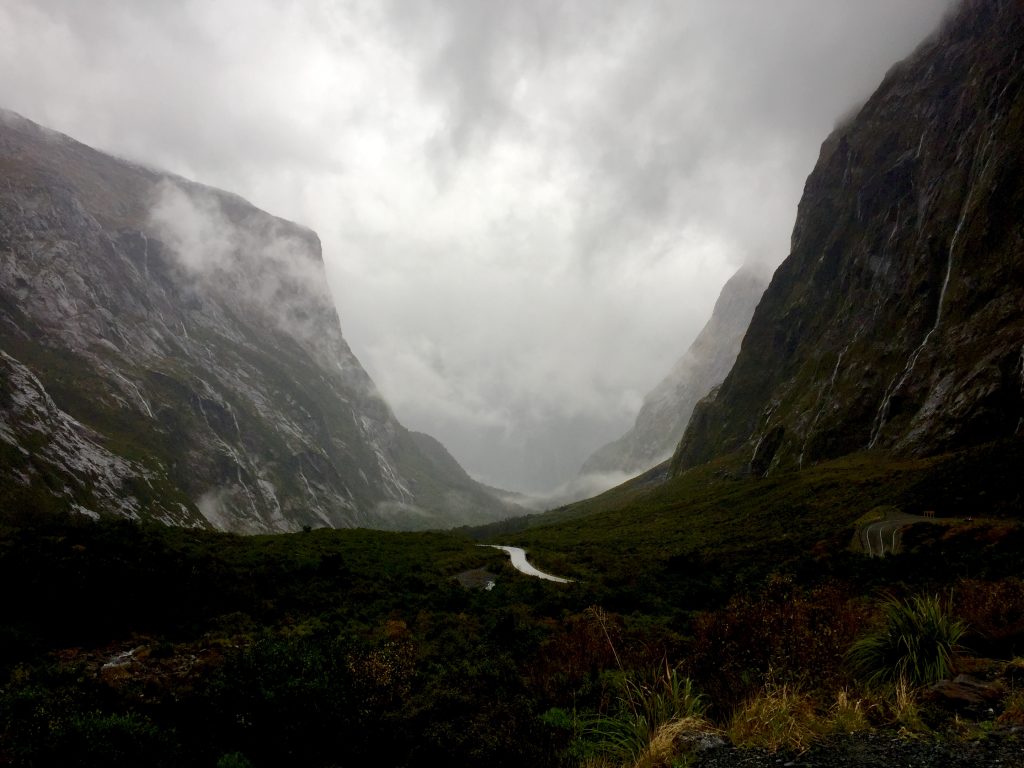 The secret to surviving a New Zealand winter? Stay dry.
I was right that New Zealand doesn't get cold the way Canada does. But rather than freezing because the temperature outside is so low (like in Canada), often you're freezing because it's so damn hard to stay dry. I'm assuming you'll want to visit Milford Sound and Mount Cook, right? Both of these destinations are notorious for unfavourable precipitation (add in the high winds and you might as well be a frozen Popsicle).
This is why your outer layer is so critical. Your outer layout is meant to block out wind and water. Your outer layer is the first line of defense against the elements. It's also where I recommend people invest a little money into if they're buying new gear.
Good Rain Coat
If you're going to splurge on one piece of outdoor clothing, let it be your rain jacket. I'm not saying go out and buy a $700 super fancy Gore-tex raincoat, but a good raincoat from a reliable company will give you comfort and piece of mind. Here are two raincoats I have personal experience with. 
Very simple raincoat that get's the job done. Despite the name, in a torrential downpour this rain jacket might not be enough, but in the majority of cases I think this is a great raincoat on a budget. I recommend buying last season's colour on sale. That's how I ended up with a highlighter jacket (see below). Note: Photo is from Nunavut, not New Zealand.
I bought this rain coat in New Zealand after nearly drowning under the rain and snow of Mount Cook. It's a nice entry level Gore-Tex jacket. Excellent protection from the elements, but the simple design keep sit affordable.
Rain Pants (optional)
This is an optional item, but one I really wished I'd had for trekking. When it's pouring rain (as it often does in Milford Sound), your hiking pants might not be waterproof enough to keep you comfortable.
Hiking Boots
If you want to enjoy all the outdoor wonder that New Zealand has to offer, I absolutely recommend bringing a pair of waterproof hiking boots. They will keep you dry and comfortable throughout your trip.
Once you've protected yourself from the wind and the rain,  it's time to keep your body heat inside the jacket. There are two components to keeping yourself warm: base layers and mid layers.
Staying Dry from the Inside: Base Layers
Your base layer has a few functions, but the primary one is keeping your body dry from the inside out. When you're active, your body sweats. You want the clothing that directly touches your body to wick away moisture, not absorb and retain moisture. Wet clothing = cold body.
The best materials for base layers are merino wool or synthetic wool. Merino is more effective, but also more expensive and delicate. Synthetic is cheaper and very durable, but not quite as good at wicking away moisture and keeping you warm. 
My recommendation would be to bring 3 base layer shirts (either 2 t-shirts and 1 long sleeve, or vice versa). The reason I recommend three is because most of us sweat quite a bit on our armpits and backs, so having a few shirts will keep you feeling clean in between washes.
Also known as long-johns or long-underwear, your base layer bottoms go underneath your hiking pants on a chilly day and give you extra warmth. I didn't find I needed to wear a base layer bottoms everyday, so I only had once pair. Also, when it comes to pants I'd recommend buying synthetic. I found merino wool to be too delicate for pants and have torn through two pairs. Now I only do synthetic. Here are some of my favourites.
Synthetic, fleece lined, extremely warm but pricey.
The only Merino top I will ever recommend. It is also super pricey and I was reluctant to try it because I normally only do synthetic, but oh man it was worth every penny.
The most durable pair of base layer pants I've found. Not super pricey, just durable (unlike my previous pairs).
A New Zealand Winter Staple: Embrace the Mid Layer!
Your mid layer is your insulating layer. It typically goes on top of your base layer and underneath your outer layer. I say "typically" because you won't always be wearing a base layer; likewise, you won't always be wearing an outer layer.
Fleece Sweater
Bring a fleece sweater. Fleece is a great material because it will keep you  warm and it dries very quickly (seriously, put it in the washer and when it comes out it's barely even damp). And fleece is one thing I don't think you need to splurge on – I almost exclusively buy fleece on sale
This is my favourite fleece sweater (I'm wearing it as I write this). It goes on sale often, so don't buy it full price. I also have the full zip one, which is better if you like to have a lot of pockets.
Beyond this one, I recommend keeping your eyes peeled for deals at Backcountry, REI, Altitude Sports or second hand stores.
Puffy Jacket
I'd also recommend bringing a puffy jacket (or as they call it in New Zealand, a "puffer") as a second mid layer. You can buy a down puffy jacket (which is expensive and very warm) or a synthetic down puffy jacket (still pretty warm, but much cheaper). I used a synthetic down coat when I was in NZ and it worked just fine. However, I'dd add that I recently invested in a down puffer and not going to lie… it is incredible. Definitely worth it.
This is the new puffer I got (though mine is bright orange because I bought last year's style on clearance – I ain't made of money). It's seriously amazing. There are three levels of warmth depending on what you need.
This was my first puffer. Okay price and excellent quality. It's pretty warm, but you'll want a long sleeve/light sweater underneath it in a New Zealand winter. Packs up really small and won't steal all your money.
Hiking Pants
Bring a durable pair of hiking pants. These don't need to be expensive, just something that'll provide some protection against the wind and won't rip if your fall on the trail.
I've been using these pants for five years now and I still love them (they aren't waterproof however, which is why I recommend rain pants).
My most recent purchase for hiking pants are these ones. I like the waist clasp and there are convenient pockets. Also very comfy!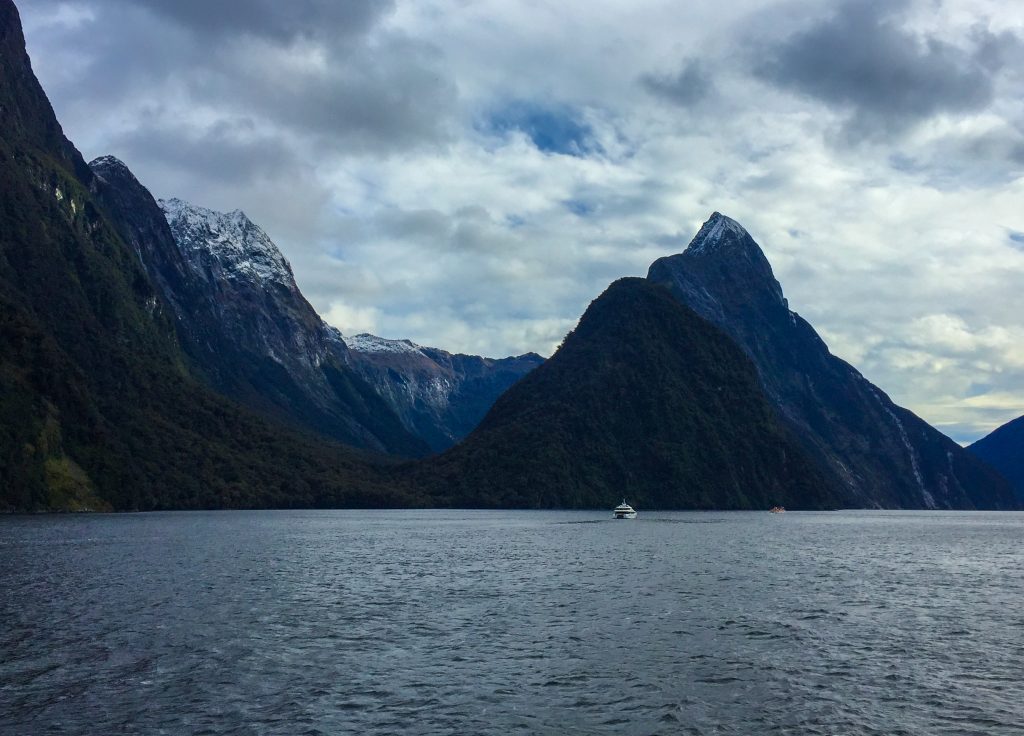 New Zealand isn't cold everywhere in the winter – don't forget the casual clothing
There are a lot of times where you won't need all this outdoor clothing on the South Island. For instance, you'll want something more casual if you're exploring a city like Dunedin, where it will get brisk, but won't warrant more than a light sweater and puffer. 
When it comes to what shirts to bring, the ball is in your court. I like athletic shirts from Lululemon, however I also have no real fashion sense so I understand if you want something a little nicer. I also like a good flannel or a comfortable knit shirt.
Bring any pair of pants you like! Though honestly, I dislike jeans and don't understand why people travel with them. If they get wet they're wet for days and they usually aren't that comfortable. The On The Fly Pants from Lululemon have become my go-to pants for just about every occasion.
Running shoes, trainers or sneakers
When you're walking around the city or in the car driving, I understand it if you don't want to wear your hiking boots. I don't either! I brought a pair of all black running shoes with me, however any kind of closed toed shoe would work. I specify closed toe because it can still get a little chilly and you'll want something sturdy because you'll be doing plenty of walking around.
Sandals
Okay, this one is totally optional and seems counter intuitive to put in a post about winter. I know, but hear me out. I bring my Tevas everywhere. I have no shame wearing them with wool socks, so I put them on whenever my feet need a break from hiking boots (for example, when cooking in a hostel kitchen or walking to the outhouse when I'm camping).
Planning a trip to New Zealand (winter or summer)?
If you haven't yet checked them out, I've written both a two-week itinerary for the South Island and a three-week itinerary for the South Island. After having lived in New Zealand's South Island for half a year, I find that there are many destinations completely underrated and overlooked by the majority of tourists. I've included some off-the-beaten-path locations in both itineraries.
Oh, and the quick packing list I promised it just below. As always, let me know if you have any questions or thoughts, either in the comments section or by sending me a message.
New Zealand Winter: Packing List
Clothing for Outdoor Adventures
1x Raincoat

1x Rain pants

3x Merino or synthetic base layer shirts

1x Synthetic base layer pants

1x Fleece sweater

1x Puffy jacket

1x Durable hiking pants

3-5x Wool socks
Other Clothing
2x Shirts

1-2x Pants

Sports bras (optional: normal bras)

Underwear

Cotton socks
Footwear
1x Hiking boots

1x Running shoes/trainers/sneakers

1x Sandals (optional)
More Resources